These days, manufacturers are trying to do more with less, operate more efficiently, and make informed purchasing and management decisions. But in order to do that, the management team must know what's happening throughout the factory at all times—and why.
While some plant activity can be tracked manually, the most efficient, comprehensive way to do so is with a machine monitoring system. Even then, not all data is created equal—and, frankly, plant managers are busy people. For this reason, we've compiled a list of the top five KPI dashboards every manufacturer needs to monitor in order to plan and manage wisely.
If you already have a machine monitoring system in place, you'll get more from it by focusing on these dashboards & KPIs. And if you have yet to invest in one, this is a quick way to learn what a system like Amper can do—and why this may be the right time to get one.


KPI Dashboard#1: At-a-Glance Shop Floor Activity
At any given moment, do you know which machines are active and which are idle? How long it takes to set up a given job? You should.
Your QCD targets compound on a day-to-day basis, and gaining real-time visibility into plant activity helps you adapt in order to stay on track.
Specifically, you should monitor:
Machine state (downtime, idle, producing)
Parts produced and scraped
Cycle-time vs. target time
Operator assignments
Job set-up times
Parts and job numbers
A good OEE system will tell you this more efficiently than supervisors making endless rounds on the shop floor. This intelligence enables you to take proactive steps, such as:
Identifying struggling operators and provide training and/or support
Setting realistic delivery expectations
Planning ahead when overtime is needed
Deploying supervisors where they're needed


KPI Dashboard #2: Machine Capacity and Utilization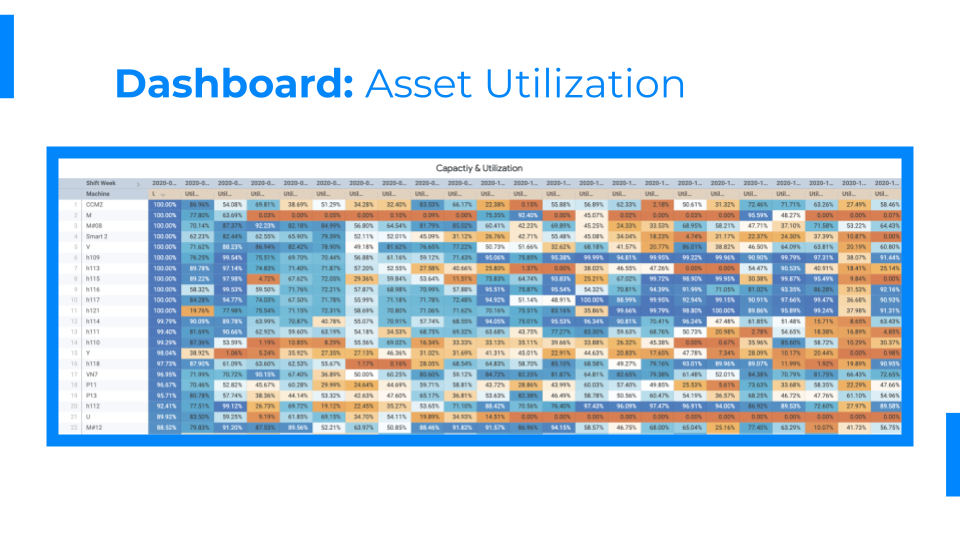 As they say, if you're not making chips, you're not making money. Measuring machine capacity and utilization allows you to improve resource allocation to maximize production.
A good machine monitoring system tracks capacity and utilization by machine and operator. Analyzing this data allows you to:
Buy new machinery exactly when you need to – say, only after existing machines hit a pre-set threshold of uptime
Manage shifts wisely
Identify—and reduce—excessive changeover times
Measure productivity, comparing labor hours to machine hours


KPI Dashboard #3: Machine Downtime
You can't speed up production until you know what's slowing you down. Monitoring downtime reveals your bottlenecks, providing a roadmap for making improvements.
This is really important. If you're underpricing jobs because you don't understand your downtime, you're creating unnecessary margin pressures. Your machine monitoring system should identify the culprits behind downtime. Then, you can address them by:
Holding a SMED event—a team exercise that results in faster, simpler workflows, typically reducing downtime by 20-40%
Investing in tooling improvements
Quantifying and addressing skilled labor shortages
Identifying opportunities to invest in robotics or automation


KPI Dashboard #4: Workforce Performance
When it comes to improving performance—to creating accountability and offering targeted coaching—the process begins with access to data and facts.
A solid OEE system identifies your top performers, so you can reward and recognize them. At the same time, it identifies who needs help and what they need, so you can offer meaningful training and support.
And it can also measure the responsiveness of your indirect support teams. Who gets the most phone calls? How long do they take to act? Do you need to hire more personnel, or are there performance issues to address?


KPI Dashboard #5: Your Plant's OEE
Obviously, your goal is to deliver goods at the promised time and quoted cost. However, it's easy to miss your targets when you don't know and can't anticipate your holdups.
When you track your plant's uptime, quality and performance at the highest levels, you get a holistic picture of your operational health. Now, you can spot and fix problems as you go, continuously hitting, and raising, operational goals.


Using the Right OEE System to Track KPIs
Manual data collection processes are generally too labor-intensive and inaccurate to use reliably. And legacy OEE systems have shortcomings, too, because they:
Require greater IT resources than many factories can support
Don't integrate well with a mix of machines
Deliver too much or inapplicable data
Are really expensive
The alternative: Amper.
We offer a simple, cost-effective OEE system that's easy to implement. Our sensors work by measuring the electrical activity of each machine. They install easily on any age, brand, or type of machine in about 15 minutes. In addition, it generates a range of valuable dashboards & reports, facilitates communication between operators and support teams, and even issues automated downtime alerts.
Machine monitoring is critical, but it doesn't need to be complicated or expensive—and we'd love the chance to prove it to you. Take advantage of our four-week trial, tracking any 2 of your CNC machines. Find out if you're eligible to try Amper for free.