As manufacturers across the US prepare for the long shadow of impact due to the COVID-19 pandemic, there have already been seismic disruptions to the supply chain and the way we work. At Amper, our team has been working closely with our partners and identifying ways we can help.
Below are some suggestions for ways you can use Amper as a tool for navigating the COVID-19 crisis:
Remote Work and Visibility
In order to protect the health of employees, manufacturing has been one of the many industries to implement social distancing policies. Because of this, staying connected to what's happening on the shop floor can be a challenge.
Use Amper to remotely track your operations and machines with our cloud-based solution, allowing you to have only necessary staff at your facility.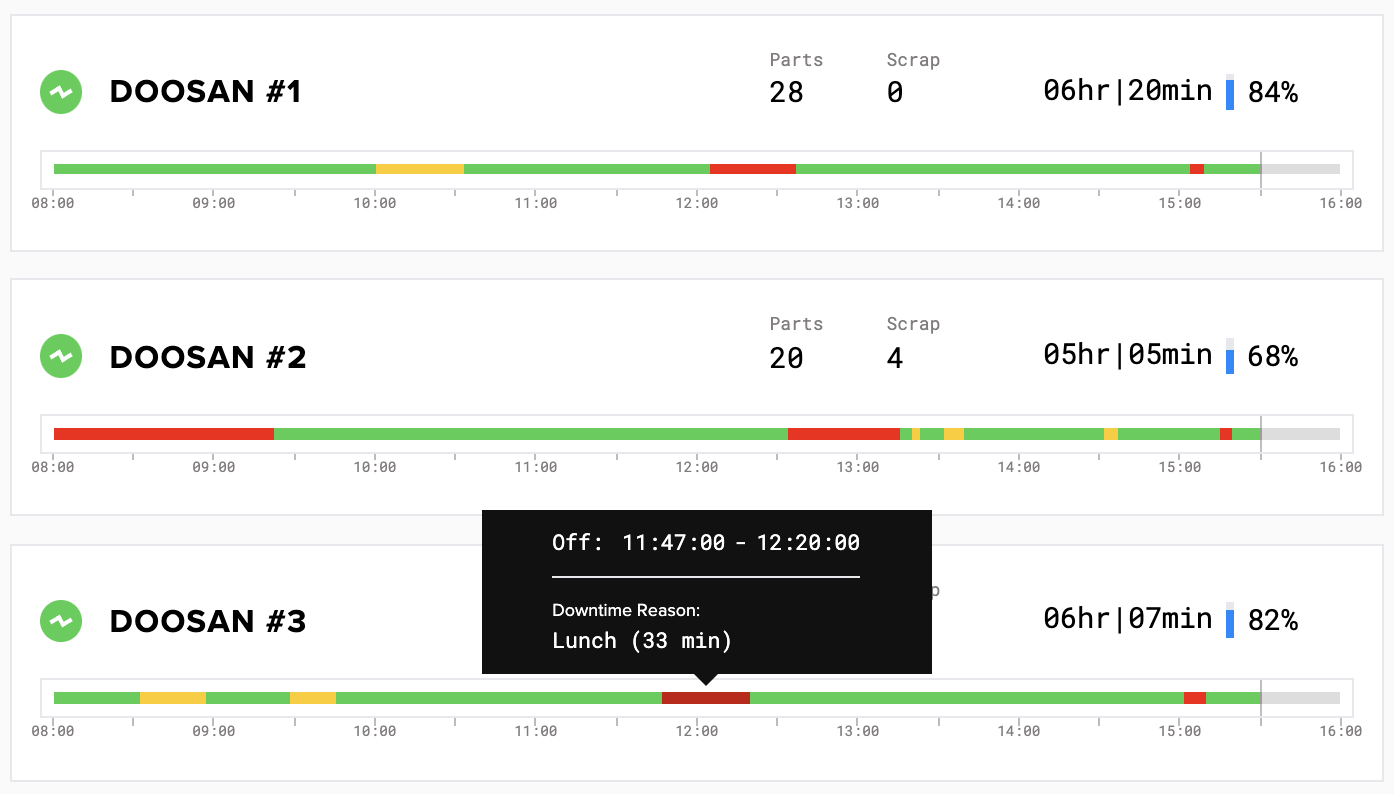 Amper's real-time dashboard shows you what's happening across your machines
Better Social Distancing with Digital Tools
With Amper's Andon Call System and paperless tools, you can empower your team to minimize the need for in-person interactions. Easily practice social distancing while still being connected.
For example, if an operator needs to get support from teams like quality or production managers, they can simply select the relevant team and add a message to their Andon call. This allows easy communication while also helping reduce response times for help. Additionally, instead of using pen and paper to fill out production sheets and increase the chances of infections, Amper allows teams to use digital tools to automatically log data.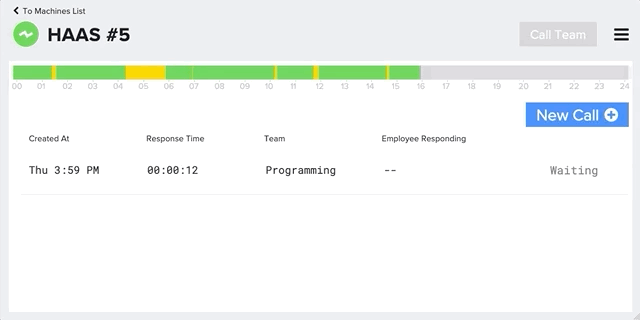 Minimize Unplanned Downtime
For manufacturers fortunate to have an increase in demand, it is especially imperative now to make sure that you minimize unplanned downtime. Amper's OEE and downtime tools can alert you in real-time when machines go down. This information can be vital in quickly responding to issues and ensuring uptime of your equipment. Additionally, with Amper's root cause analysis tool, you can have more thoughtful discussions during production meetings by leveraging accurate data and intuitive ways to isolate root causes.
Digitize Your Factory
Manual data collection using clipboard and paper can hold you and your team back from having focus, alignment and precision in decision making. However, such projects often take the backseat since meeting delivery deadlines take precedence over investing in systems. Take this time to migrate to digital data collection. Amper's remote deployment allows you to self-install our IoT systems.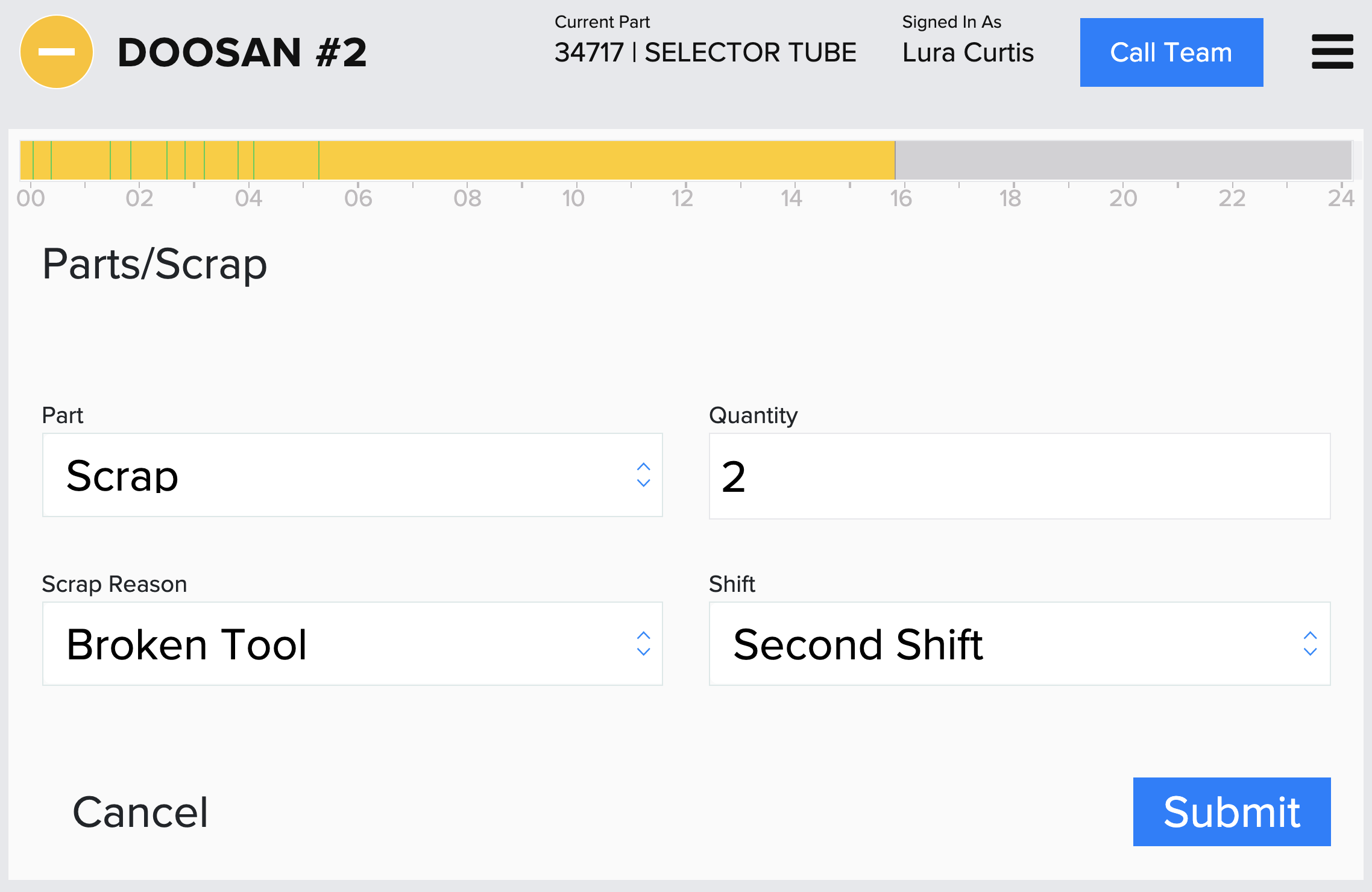 Implement Total Preventive Maintenance

Ensuring that you have an optimized maintenance program can be a key driver for cost reduction. This is especially true during times of volatile demand when you need to ensure that you are not over-maintaining or under-maintaining your equipment. With Amper's usage-based maintenance scheduler, you can ensure that you have an optimized system across your assets in order to reduce unnecessary maintenance costs and avoid unplanned downtime or breakdowns.

Use Workforce Training and Standard Operating Procedures
Setup and changeover is often the most expensive and complex part of running a high-mix, low-volume business. Additionally, you need a highly skilled and efficient workforce in order to do more with less. You can benefit from implementing standard operating procedures for complex tasks and have simple checklists to ensure compliance with processes. Additionally, analytics show you bottlenecks in your processes and easily help you identify training opportunities for your workforce.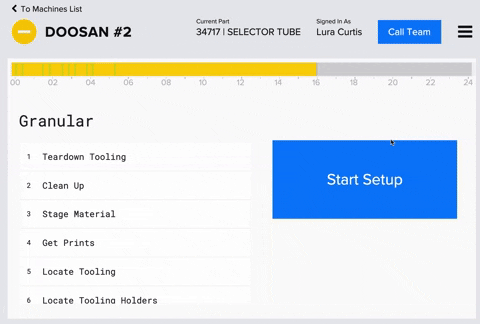 Provide Customers with Transparent Delivery Schedules
If you are supplying products or components to strained supply chains like medical devices, you can provide more accurate delivery schedules by alerting your customers of delayed shipments using the real-time data on your machines. The system allows you to add unlimited users for free and can be used by your company's customer relationship managers to gather the most up-to-date information.
Manage Workforce Deployment
As you continue to evolve procedures to minimize the number of staff needed on your shop floor at any given time, Amper's people analytics can help you have complete visibility into the deployment of your workforce. For example, our reports can highlight the total number of employees at a given shift, their productivity across equipment and their clocked times. This data can empower you to more confidently have a staggered workforce while not compromising your committed production deadlines. Additionally, having reliable data on utilization and productivity can help you with staffing and costing decisions.
Get Started with Amper Today
At Amper, we understand that our customers are facing unprecedented uncertainty surrounding the current COVID-19 pandemic, and its short-term and long-term effects on the manufacturing industry. With some factories temporarily shutting down, cutting production, or asking their employees to stay home, it's impossible to predict what the next 6 months will look like, let alone the next three.
That's why Amper is introducing a 90-day risk free trial to all new customers*. We truly believe that our real-time OEE and machine monitoring system can help your business successfully navigate this crisis and come out on top, but also understand that budgets have been put on hold. We want to give our customers a chance to see what Amper can do for their business and experience the impact that Amper delivers firsthand before making any long term commitments.