"I want three custom parts for my machine, and I need them by tomorrow."
High-mix low-volume (HMLV) manufacturers around the country are faced with requests like this every day. With inconsistent demand and constantly changing requirements, it can be very challenging to apply Lean engineering and Six Sigma principles to HMLV production. Furthermore, one-off part production with minimal to no repeatability makes it hard to justify adopting digital technologies.
However, a recent study by McKinsey estimated that "low-volume, high-complexity manufacturers could improve annual output by 5–20 percent by harnessing these solutions." [1] Collecting and analyzing currently unused data could lead to dramatic productivity increases for HMLV manufacturers around the country, and it is much easier to get started than it used to be.
The following points explain 5 different ways to improve HMLV manufacturing, and how incorporating digital technology is no longer out of reach.
1. Eliminate waste in order processing
The first step in improving operational efficiency in an HMLV factory is optimizing how orders are processed. Amper's in-house manufacturing expert recommends conducting a thorough process flow analysis to identify and eliminate non-value-adding steps. After these steps are removed, order processing will be much more efficient and costs will be reduced.
One way to eliminate waste in order processing is through the implementation of a customer ordering portal in which customers can receive a quote and place their order without directly contacting a sales representative. By automating the intake process, HMLV manufacturers can decrease the time they spend taking orders and increase the time they spend fulfilling them.
2. Understand strengths and weaknesses
HMLV manufacturers take on a variety of jobs with a wide range of requirements and difficulty levels. Understanding your factory's strengths and weaknesses with different types of jobs is crucial to achieving long term success. Due to the customization of parts in many job shops, the real measure of ability falls on the machine operators themselves.
In order to quantify the skill level of each machine operator, try ranking parts by level of difficulty (1-5) and measuring the time it takes the operator to machine parts at a certain difficulty. Once the operator has demonstrated an appropriate speed and accrued time working on a certain complexity level of part, they can be moved up to work on the next level of difficulty, and should be compensated appropriately. This will incentivize employees to develop advanced skills, and will improve the overall performance of your factory.
3. Investigate scheduling
Scheduling is critical for success in HMLV manufacturing where inconsistent demand is common. The most important factor in scheduling is ensuring that you are scheduling for what is, not what should be. For example, understanding the strengths and weaknesses of your staff will allow you to schedule accordingly based on complexity of the parts. If 80% of the work can only be accomplished by the 2 most skilled operators, there is clearly a talent issue that needs to be addressed.
HMLV manufacturers can benefit from digital technologies like Amper to improve their scheduling. Amper offers capacity planning, scheduling and workforce development in their comprehensive software stack. With Amper, plant managers can monitor each operator and each shift to compare performance and identify areas for improvement.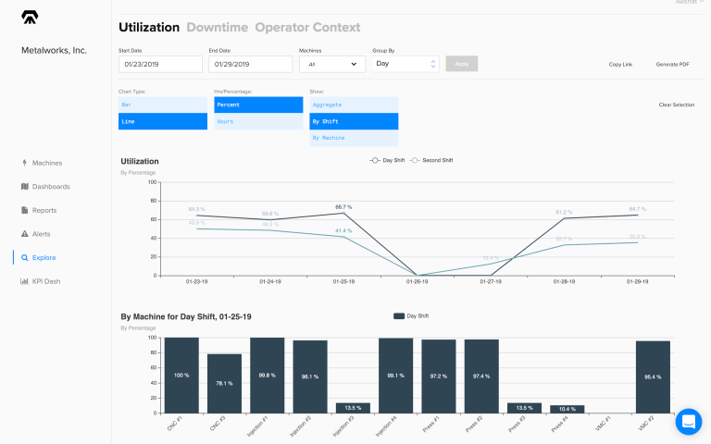 4. Master set up
Because HMLV manufacturers produce such a wide range of parts, a large portion of their work involves set up. Before starting a job, it is important to gather all prints, materials, and tools and to identify waste in the current process. Furthermore, many job shops could benefit from bringing in experts to look at tooling and holders to find the most versatile options that cut down on change over time. Above all, it is absolutely critical to measure setup time and performance to ensure improvement over time.
Companies looking to reduce setup time can benefit from digital solutions like Amper. Amper monitors setup and uses alert escalation to notify supervisors whenever setup is taking longer than expected. By alerting supervisors to long setups, Amper helps reduce response time and drives operational success.
5. Automate where possible
Many HMLV manufacturers believe automation is reserved for large-scale factories. However, there are many ways to automate HMLV manufacturing that are cost effective and provide real value. For example, implementing cobots for machine tending can be very effective and frees up skilled labor to focus on more important tasks such as programming and customizing part design. Furthermore, cobots can help companies switch to lights out production, thereby increasing productivity dramatically.
Credits to Erik Johnson for input on the content.
---
Amper is a technology company based in Chicago, IL that makes it easy to track and improve the performance of machines by non-invasively measuring electricity-use of the machines and translating those signals into metrics like downtime, cycle-time, and parts produced.